Orange carton box, tangerine , lemons (sweet or sour) and grapefruit can come in a variety of sizes depending on the quantity or weight to be offered. The mentioned fruits belong to a family and rich in vitamin C, which is one of the most important reasons for the continuous consumption of this fruit, it high nutritional value.
Cartons of oranges and tangerines
Orange carton box and tangerine packing cartons can be without printing, with regular printing or laminated, and based on the amount of weight it has to bear, it is determined to consider three-layer carton or five-layer cartons.
The model and design of the carton box is a matter of taste and the designers of the design unit of Avin pack carton company do it with the participation of the customer until it is approved by the customer.
In many developed countries, packaging is very important because packaging is considered the product, add the more creative the packing model and the easier it is to transport the product and also produce it with durability and reasonable price.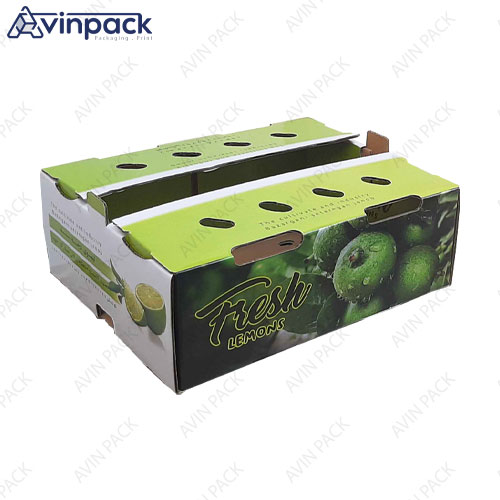 competition for use. It goes up because they believe that packaging has a result effect on increasing product sales and is effective in advertising. Seen is some cases, cartons with different models are used in more fruit is placed in them and as a result, the cartons have to bear more weight, more care must be taken in choosing the material of the carton.
Lemon carton
To select the export carton, it is suggested that after reaching an agreement with the buyer in the target country, you can send a number of product packaging samples to him, and after receiving the confirmation, order the fruit carton. To achieve a beautiful design, you can contact Avin pack carton designers.
Grape fruit carton
In the most cases, four-door carton in the different designs are used for grape fruit cartons. This fruit is offered in four-door (American) model cartons, cumin or export design to different markets, printing on the cartons of these products is either flexo or offset and in some cases is offered to the market without printing.
The design of the box can be based on individual taste or can be sent according to the taste of the destination people or it be sent according to the taste of the product, under the supervision of a group.
Avin pack carton company
AvinPack carton company is one of the selected carton manufacturers in Tehran and Karaj which are located in Iran from the customer's points of view and with nearly two decades or experienced in the field of carton making, box making, printing and packaging of various carton and cardboard boxes for domestic and export markets has been able to attract the attention f its customers by designing and producing the most stylish and creative packages Avin Pack seeks to create new, stylish and functional models.
https://en.avinpack.com/wp-content/uploads/2021/11/orange-carton-box.jpg
321
750
admin
https://en.avinpack.com/wp-content/uploads/2021/10/Avinpack-logo-250x62-1.png
admin
2021-11-30 13:21:36
2023-06-25 14:31:05
Orange carton box