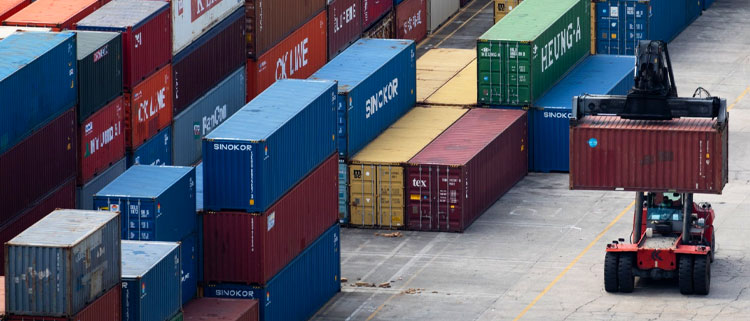 Containers freight transport has increased a lot in different factories and industries to facilitate the transportation and movement of products, which are made in various dimensions, and for the strength of goods that are placed on pallets.
what is container?
Containers freight transport is something that widely used in global markets today. Containers are a good option for moving products around the world due to their durable and water proof structure, with the advancement of science and industry, the structure of these containers is changing and becoming more advanced every day.
Size and dimension
Containers freight transport is very popular due to the many advantages and their production is increasing daily. Containers come in a variety of shapes and sizes standard containers are usually 10, 20, 30 and 40 feet, but the most common type of container is 20 and 40 feet. Today, shipping companies also use 45-foot containers.
The internal dimensions of the 20-foot containers are 600 cm long, 234 cm wide and 228 cm high.
The internal dimensions of 40-foot containers are 1200 cm long, 234 cm wide and 228 cm high.
20-foot containers are commonly used to store goods and because of their anti-theft appropriate sizes they are used as a store, residental structure of kiosk. The weight of a 20-foot container is about 300.2 kg and the maximum weight that can be placed in it is about 770.21 kg.
40-foot containers, these containers have a standard size and suitable and are mostly used in the transportation industry and are one of the best-selling types of containers because they have enough space for stacking products and all products can be fully accommodated in them, which speeds up transportation. The maximum weight is about 26.6 tons.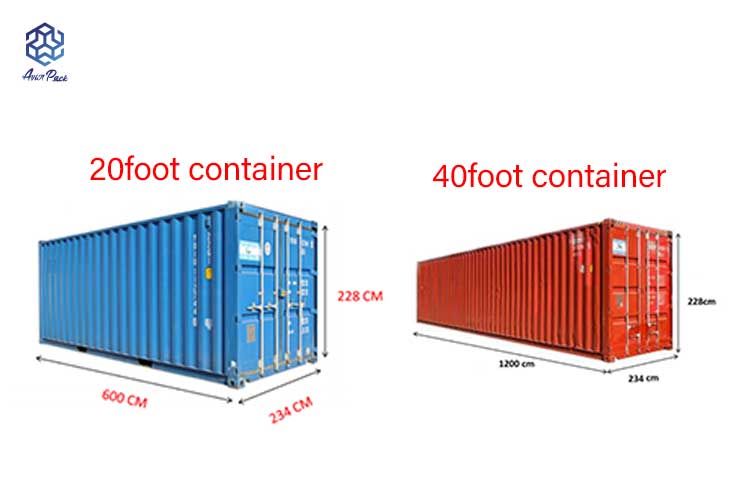 There are different types of containers, some of which we will name:
Roofless containers
These containers are not roofed and are usually lined with tarpaulin. These containers are used to more high-altitude products.
Tanker containers
There are used to transport large volumes of liquids.
Refrigerated cotainers
This type of containers is used for food are perishable products to prevent it from spoiling in the process of moving the product.
Containers for carrying gas condensate
These containers are made of very strong materials so that when condensate such as gas, oil, gasoline, etc. are loaded in them. it will not be pressed and hit and the containers will not explode.
Insulated containers
There are mostly used in countries with high maritime transport. These containers are produced with very strong insulation that will not be damaged by water, wind and storms along the sea route.
Ventilated containers
These containers are used to transport vegetables and fruits to create a healthy for these products with the ventilated system.
In this article, we give a brief explanation about types of cargo containers, these containers are used to transport cargo inside the country, which have given high speed to the transportation industry.
How are good and products placed in in containers?
The packaged products are placed on pallet and the same in containers pallet are a type of flat device with standard and different dimensions, on which packing boxes are placed are moved by pallet jacks and forklifts. Pallets are the movement of goods very easy convenient and give a special order to the arrangement of products.
The best way to arrange pallets is one of row wide and are row log. pallet are made of wood, metal and plastic and have different dimensions and sizes., but also products 110*110. 120*100, 120*80 and 130*110.
Their arrangement in the container depends on the dimensions of pallet and the size of the containers, for example, in a 20-foot containers, there are 11 pallets with a size of 120*80.
Importance of material and typed of packaging carton in transportation
Packaging boxes are very important in the transportation of goods because there are packing boxes that are placed in containers and must be strong and durable during the route a and how long these boxes will be in the shipping route so that we can choose the best and most suitable sheet material for the boxes according to these issues.
Benefits of shipping by containers
Reducing transportation damage such as breakage and theft
Reduce shipping and download costs
Put all the products in the container
Speed up loading
Delivery of goods directly to the customer
Frequently Asked Question
How many products fit in one container?
This is a question that has occupied the minds of manufacturers. In the answer this question, it should be said that by having the length, width and height of packaging box and the total area of the container, we can get the volume that is placed inside a container.
What container is suitable for carrying our products?
The choice the best type of container for it according to its material, which is food, perishable, etc.
What kind of packaging box is suitable for packing in a container?
The choice of box type depends on the most important factors, the type of product, its shipping time and the height at which we want to place the packaging boxes in the container.
About Avin Pack
If you need boxes and packing cartons to transport your goods. You can consult with the exports of AvinPack Company regarding the weight of the product and the height. you intend for the arrangement.
Our sales consultants, considering the material, weight and height, arrangement they offer you the best type of sheet to minimize damage to your product during handing.
https://en.avinpack.com/wp-content/uploads/2021/09/Freight-transport-by-container.jpg
321
750
admin
https://en.avinpack.com/wp-content/uploads/2021/10/Avinpack-logo-250x62-1.png
admin
2021-09-20 08:38:30
2021-09-20 15:20:59
Containers freight transport