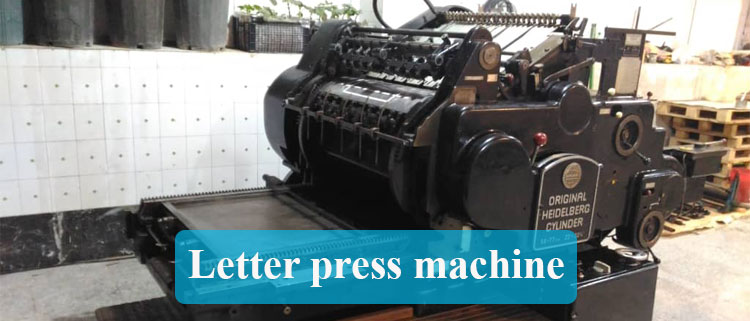 Letter press machine is one of the oldest types of printing compared to other prints such as offset, flexo and digital. Others prints have surpassed letter press due to the increasing development of today's world, and this type if less used for printing. Today, this machine is used to apply additional steps i the production of cardboard boxes such as line, fold and cut.
What is the letter press?
Letter press is the oldest machine for embossing printing methods. Letter press with Latin name letter press does not refer to embossing and means letter press printing.
The reason for this naming is more historical because letter press was originally used to print letters, and printing images on paper usually has a separate process from the letters.
Read more: SILK SCREEN PRINT
The ordering letter method in the letter press machine is one of the main things that is done. The print is known a embossing, meaning that the letters that are printed on the paper in question have a tactile embossing.
in the past, to apply such embossment, the method of engraving on wood was usually used. That is , the process of printing was done by engraving the inscription and carving on the wood and impregnating it with ink.
Letter press was invented by the father of the Gutenberg printing industry on the 1940s, and continued until the early 1970s, which was one of the most important and widespread printing methods known at the time. In the late 1960s and early 1970s, offset printing gained much popularity and letter press gained market share.
Read more: OFFSET PRINTING
Nowadays, a plate is used to transfer ink to led ordering letters characters, which allows the transfer of text and images. Other features that this printing has are in the complementary stages of packaging that are done offset printing, such as razor and line operation and folding. There are the capabilities of letter press machine.
Letter press machine
Letter press machine has a new process today and is no longer the same as before letter press printing machine used to be for printing letters and embossing then on paper, but today the printing stage has been eliminated and the machine used as letter press in carton making is for sharpening and cutting cardboard.
Letter press method can now be used to create lines, folds, cuts and apply some embossments on a cardboard box. This means that this machine is no longer used for printing letters, but is some rare cases, such as printing wedding cards to greetings for embossing.
Conclusion
In the end, it can be that letter press machines are introduced in the market today with the some name and are most used in the field of razor and line ad fold.
Avin Pack carton, by having up-to-date machines and tools along with a diligent and experienced team, tries to produced the most suitable type of packaging possible to satisfy you, dear manufacturers.
https://en.avinpack.com/wp-content/uploads/2021/09/letterpress-machines.jpg
321
750
admin
https://en.avinpack.com/wp-content/uploads/2021/10/Avinpack-logo-250x62-1.png
admin
2021-09-19 09:56:30
2021-09-20 14:34:39
Letter press machine