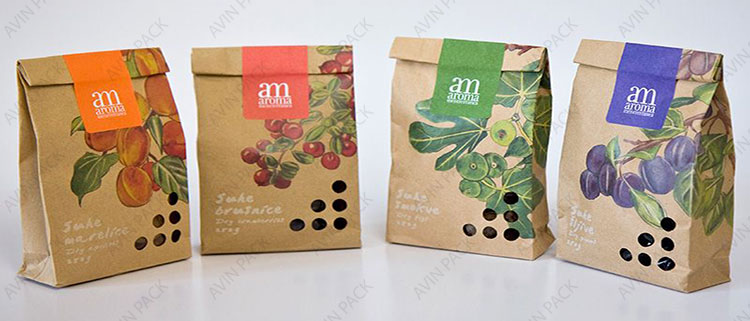 Dried fruit packaging today and its role in exports is more important attention than ever. Paying attention to the points such as quality,, design and color appropriate to the product, avoiding uniformity and instead using taste can become a vital thing in selling your product.
Dried fruit packaging for export
Have you ever wondered why dried fruit should be packaged? Dried fruit is used in the food sector and the lack of packaging contaminate your product and also affect its storage time.
Read more: NUTS PACKAGING
Today, fruit chips or dried fruit have become a healthy snack because of their health and taste which has found many fans, especially those who are looking for a healthy diet.
With the advent of various and advanced machines, dried vegetables and fruits are produced and packaged in large quantities. The pack of such snacks is very important because if their pack is not suitable, all the efforts in during the product and supplying it with the same quality will be lost.
Paper packaging envelope
Paper bags have long been one of the most common packaging. Paper has gained a lot of fans among environmentalists due to its high recyclability. Unlike plastic, it does not harm the environmental and is the best choice for preserving natural and organic foods such as dried fruit.
Read more: PRODUCT PACKAGING DESIGN AND BRANDING
If you want to compete with the strong global markets and you want to have strong sales and marketing, you must order the most suitable packaging.
These typed of envelopes are offered om beautiful and new designed and are more suitable for packaging dried fruits, which offer better beauty to the customer than plastic.
The advantage of having a pack for dried fruit is more obvious in its storage. Unlike dried fruit, which are offered in bulk, which must necessarily be in a cool, dry place away from sunlight, these structures do not exist in the use of standard packaging bags.
The important points in the fruit chips packaging
If you go for more elegant and creative packaging, not only will you not lose, but you will create a credible and permanent image in the mind of the customer that he will look for in every market and store.
No matter how good the quality the dried fruit is. It does not have an attractive appearance, so the use of paper packaging gives a good appearance to the product. If you want to offer your product in bulk, plastic seems to be one of the available options.
However, due to the environmental conditions and its long-term recycling and the damage it does to nature, the best option is the same paper-based packs such as cartons and boxes.
You cam also find dried fruit in plastic and metal containers, but expansive metal containers and crystal containers, despite their fragility, are not good choices for chips. Dried fruit packaging should be free of any contamination and dust and to some extent protect the product from the penetration of sunlight.
Kraft is a type of paper of cardboard that is produced during a chemical process that has a very high resistance and is one of the most popular packaging.
Read more: DETERMINE APPROPRIATE BOX FOR PRODUCTS
the Kraft have a beautiful and customer-friendly appearance and health points have been observed on them. In some krafts, having a talc window, you can see the contents of the package, which includes a good feeling to the audience.
Frequently Asked Questions
What is the best packaging for dried fruit? Paper bags with lower cost, more cost-effectiveness, and higher recyclability are the best choice for dried fruit packs.
Why fruit chips pack? Snacks such as dried fruit should be packages to protect against contamination and dust as well as away from direct sunlight.
Does beautiful design on chips fruit packs matter? The use of attractive and dazzling designs and colors, as well as having talc on the envelopes, makes the customer see the inner contents, so he can have a higher choice.
Conclusion
By reading the above, you can make the best decision in the field of dried fruit packaging. We all know that paper bags are one of the best types of fruit chips because of the benefits mentioned above.
You may not find the capabilities of such packages in storing and preserving the product in any type of packaging. Avin Pack Packaging Company with a history of nearly a decade in the field of packaging in ordering this type of packs at your service.
https://en.avinpack.com/wp-content/uploads/2021/09/dried-fruit-packaging.jpg
321
750
admin
https://en.avinpack.com/wp-content/uploads/2021/10/Avinpack-logo-250x62-1.png
admin
2021-09-11 10:01:23
2021-09-20 11:38:00
Dried fruit packaging