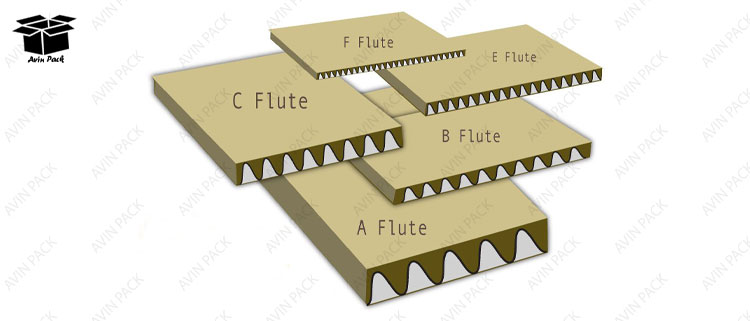 Carton flute is the material which uses between layers of carton to provide the strength of carton fir using transportation products well.
What is carton flute?
You may have asked yourself this question, if pay attention to the carton packaging and see the wavy layers between the sheets, you must have asked yourself what is this corrugated paper and what is its use and whether it is? Is it necessary for carton and cardboard packaging? Or not?
In the following, we want to introduce you to the types of these corrugated papers, which are called flutes, and explain about them
Read more: PRODUCTION SIMPLE CARTONS
Types of flute
Flutes are of special importance in the box and carton industries, which are necessary in the production of cartons because they make the carton durable and strong, and also having empty space makes the carton flexible and soft and prevents external damage to the product.
Flutes are classified according to the wave they have, which is also called congress, the higher the height of these congress, the stronger it is. Flutes are classified into 5 categories A, B, C ,E ,F in terms of thickness, each of which is used in different applications.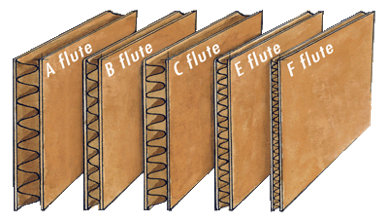 A flute
This model of fruit is one of the strongest and most durable of teeth or concussions is approximately between 105 to 125 per meter. The presence of these in the carton has created the feature of impact and pressure resistance that the higher the height of these teeth, the higher their resistance.
B flute
This model is slightly weather than the flute A compared to the flute A, which has a tooth height about 2.1 to 2.9 mm and the number of congresses is usually between 125 and 150 per meter.
C flute
This type of flute is one of the most common flutes and their resistance is less than flutes A and B and is usually included in 80% of different uses and cartons with flute C and A weight capacity of about 2kg and high teeth congresses is 120 to 145 per meter.
E flute
This type of carton is less thick than other flutes, which are widely used in laminated boxes due to their smooth surface, and their uses are pizza boxes or medicine boxes.
Flute E us used for small boxes, but by combining other flutes, ir can lead to the production of three-layer and seven-layer cartons. And their is between 1.1 to 1.6 mm and its teeth are between 290 to 320 per meter.
F flute
The thinnest flute among the types of flutes that are used for luxury accessories such as perfume and cologne boxes, the height of the teeth of which is some thing between 0.8 mm and is usually 420 pieces per meter.
Read more: RECOGNIZE THE CARTON BOX
Reason for using flute in carton production
So far, you are familiar with several types of flutes that are divided into 5 categories A, B, C, E, F.
The necessity of using flutes in the carton and boxes making industries is to increase the strength and durability of the carton and it is considered as a suitable insulation against shocks.
Every manufacturer wants its products to be consumed without any damage from production, so that correct and prevents the products from being crushed and broken.
Some flute carton sheets are made of wood fibers, can be used in packaging such as fruits and vegetables because it makes the carton impermeable to moisture and humidity, which are mostly used in export.
Perhaps a question has been on your mind: Is it possible to use another layer to flat sheet instead of a flute?
In response, it should be said that this is possible, but the reason for using these flutes with their wavy shape is that it increased the resistance of the carton against shocks and damages and makes it more resistant to the carton you want than the flat sheet.
Types of carton layers
Cartons are produced in different types, which can be referred to as single face, 3 layers, 5 layers and 7 layers, the mot widely used of which are three layers an five layers, which are used for different purposes.
The single face, which is number are in the picture, uses a layer of sheet and a layer of flute, which are used inly for laminated cartons, because a layer of cardboard is placed on it to prevent the flute from moving, and more than flutes B and C are used.
3 layer carton: this type of carton consist of two sheet surface a flute layer. This flue can be of type E, B, C each of which is used in various applications.
5-layer carton: This carton is made of 4 sheets and two layers of flute, which because it is doubled, creates more resistance than the three-layer flute and can be safe for products that are more sensitive to breakage and impact.
Flute of this type of carton are a combination of EB, EC, BC, which is one of the most common combinations available in the current markets.
Read more: PACKAGING CARTON PRICE
Frequently Asked Question
Why are a flute in a carton?
The use of flutes make the cartons strong and durable and makes them safe against shock, crushing and breaking products.
What are the type of the flutes in cartons?
Flutes are divided into 5 categories, which include flutes A, B, C, E and F each of which is used for its own use.
When to use what flue in carton packaging?
to use different types of flutes, the desired product must be specified so that manufacturers can use the most suitable type of flute in its carton packaging.
What is the effect of carton flute on the cost of packaging?
If the flute used is made of paste and recycled paper, it is cheaper than the flute given to it through a congressional sheet, but its quality and strength are lower.
Last word
Avin Pack Packaging Industry, with more than to years of experience and extensive activity in the field of carton making, box making, design, printing and proper packaging pf products with the highest quality and reasonable price in market, will probably guide to make the right choice. You can contact the experts of this industrial unit through the contact us section.
https://en.avinpack.com/wp-content/uploads/2021/09/cartons-flutes.jpg
321
750
admin
https://en.avinpack.com/wp-content/uploads/2021/10/Avinpack-logo-250x62-1.png
admin
2021-09-20 13:41:44
2021-09-21 10:28:58
Carton flute