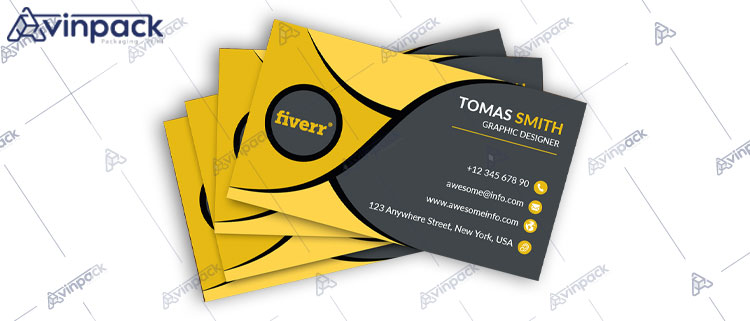 A business card is a tool that is needed in today's advertising world to introduce small and large businesses to other people in any field. In this article, we will talk about the types of business cards and how to produce special samples.
What is a business card?
A business card is actually an advertising method that is more informative. That is, by having and providing it, you are transmitting a series of information to people, which includes the name of your company or business, address, phone number, website address, email and other things.
Although in today's world, information is exchanged through websites and other social networks, but having a business card gives legitimacy and acceptance to your business, and for people who still find it difficult to communicate with the virtual world, work It can be more effective.
Read more: what is brochure and why we use them?
The most standard type of business card with length and width of 9×6 and 4. 8*5. It is 5 cm in the shape of a round and simple rectangle on which printing is done. These two sizes are general sizes, but for those who have a different size and geometric shape in mind, a special model can be produced.
There are standard sheets for making general business cards, but if you place a special order, a special template needs to be made to produce it. The lowest circulation of general business cards is 1000 pieces. But when you have a special order, it is cost-effective to order in a high circulation and it will not be economical in a circulation of 1000 pieces.
What things are important in introducing the business?
You might say to yourself that with the rapid development of technology, is it necessary to have a business card?!
If you don't have a business card for your business or you don't know where to start to design and print it, we recommend that you pay attention to the reasons for the importance of a business card that we will explain below.
you to introduce your business with full confidence
It is better to know that business card information and how to write on it is very important because it should be readable and concise. Most of them use both sides of the card in the same way to provide information, and sometimes different information is printed on both sides of the card. Also, due to the limited space, avoid exaggeration and get the most out of this small advertising method with intelligence.
The ability to follow people
It is true that now, due to the advancement of technology and virtual networks, more widespread advertising is done, but as a producer or manager of a business, what solution do you have to track people who do not use smartphones or are not members of cyberspace? ?!
Well, for this, the best way is to present a business card. A beautiful and appropriate business card gives the opportunity for customers to refer to it and contact you if they need it.
Always available
Business cards are always available because they take up less space. For example, when the mobile phone is turned off or the person cannot access the Internet, the only way for the customer to communicate with you is through a business card, which is considered a permanent and dynamic advertisement.
Effectiveness of direct marketing
Digital marketing, website and payment of expenses to improve search results and search engines and other advertising tools are very useful and practical in this field and make your business imprint in the minds of the audience.
But when you have a face-to-face meeting with other companies or investors from different fields in a meeting, none of them is as pleasant as exchanging business cards and does not build trust.
Show your business professionalism
Having a business card and presenting it proves that you are a professional in your business and in a meeting, instead of having a pen and paper, you use a business card to write your address or phone number, which gives a positive feeling to the audience. and can trust more easily.
Types of business cards

There are different types of business cards; Magnetic, laminated, cellophane, pvc, glass, etc. Each of these cards can meet the needs of the owners of any business according to their special function.
Laminate
In this type of card, two layers of cardboard are used for more durability. The laminate model has a clear and beautiful appearance. For the production of laminated type, they usually use white or glossy cardboard with different grammage. The thickness and resistance of the laminated business card against bending and humidity is high.
PVC
PVC is made of a type of plastic that is made of polyvinyl chloride. This card has good flexibility, but at the same time it is resistant to bending. The use of PVC card has many applicants because the durability of the writing and design on it is higher than other cards. Its smart type is used to produce debit and electronic cards.
Gloss with cellophane
Usually, in this type of card, 300 grams of gloss is used, on which matte and glossy cellophane can be applied. Local UV can be used on business cards produced with glossy cardboard, as well as gilding and highlighting a special letter or brand, to make it look better and more beautiful.
magnetism
This form of business card is magnetic and can be stuck on the iron surface. This type of card has a very long shelf life, which is mostly used for businesses that operate in the field of facilities, food or restaurants.
linen
This type is derived from fabrics that have linen fibers. People who are interested in having textured cards usually order the linen type. One of the best and most common types is German linen, which has a high thickness and includes finer textures on the card. It is better to know that offset printing is done on all business cards, including linen.
How is printing on a business card?
All business cards are printed in two types: offset and digital. with the difference that offset printing is done for higher circulation and digital printing for a limited number. The price of these types of cards is calculated according to printing and services after that.
For example, a business card that has gilded and highlighted logo and brand on it has a more expensive price than a simple card where these beautiful elements are applied according to the customer's request. And sometimes you can take advantage of the experience of designers with business card experience at the time of placing an order.
https://en.avinpack.com/wp-content/uploads/2022/08/business-card.jpg
321
750
admin
https://en.avinpack.com/wp-content/uploads/2021/10/Avinpack-logo-250x62-1.png
admin
2022-08-15 10:58:15
2022-09-03 17:08:52
Business card