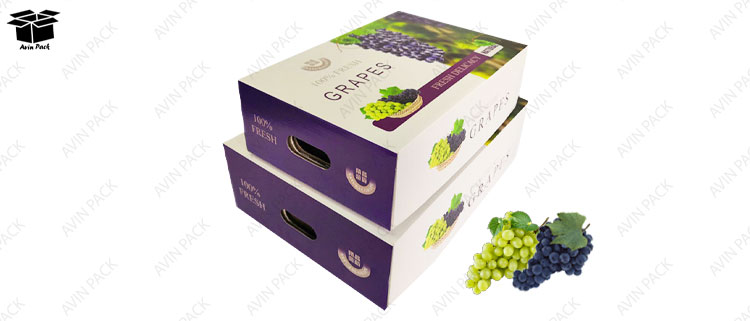 Grapes carton packaging and carton basket is one of the best options and packaging models for grape packaging because the export of grapes is a source of income for the countries that grow this popular and delicious fruit. The type of packaging is very important in the safe arrival of grapes to other countries.
Production of cartons and boxes of grapes
Currently, thriving markets for grape exports are know in Russia and the Persian Gulf, and most export companies prefer to take over the market of these two regions.
Read more: THREE-LAYER CARTON
What is very important in the export of grapes is the quality of the grapes and the health of the grains and clusters of them, and this must be observed from the time to picking the grapes from the trees to the stage of picking.
Since fruit grapes are very sensitive to pressure and can be easily crushed in unfavorable conditions of transportation, its carton must be made of the most durable and best quality 5 kg carton is recommended.
carton and box design of grapes
The packaging of exported grapes is extremely important. As you know, export products the design model chosen by manufacturers is different form domestic products and goods foreign customers have different opinions and tastes, so a box should be designed.
That has both a good appearance to attract customers ad a good quality in the maintenance of goods.
Laminated boxes and cartons with offset printing is one of the best choices by exporters. Laminated cartons with features such as image transparency, gliding and embossing text, cellophane, etc. attract the attention of many customers abroad.
Many foreign buyers are very sensitive to buy grapes, so the cultivated grapes must have be good quality and organic, the cartons and boxes must be of good quality to be able to ensure the health of the grapes in containers and handing.
Carton design of cartons ad boxes of grapes in the form of baskets is one of the modern models the passage of air through a hole in a cluster of grapes arranged in the carton to insert crumbs and damage the product during transportation and do not transfer at high temperatures.
Read more: 6 SECRETS TO SPECIALIZED PACKAGING
Grape
Grape is one of the delicious and sweet fruit that is usually found in different seasons of the year. You may have head the names of seedless, green ruby grapes. These are types of exported grapes, each with its own unique taste.
In our country, grapes cultivation is usually seen from the cities of Takestan in Qazvin province which is located in Iran and in parts of Hamadan of Kurdistan province, a large share o0f which is exported to combines such as Russia< Iraq and Persian Gulf.
If you are a producer of quality grapes and you are looking for a basket carton box suitable for your product for packaging, you can get the best offers from the free advice of Avinpack carton and box maker experts, and also it you are looking for an attractive and dazzling design. You are a supplier, you an consult with AvinPack carton designers.
https://en.avinpack.com/wp-content/uploads/2021/10/grapes-packaging.jpg
321
750
admin
https://en.avinpack.com/wp-content/uploads/2021/10/Avinpack-logo-250x62-1.png
admin
2021-10-19 10:34:49
2021-10-19 12:32:45
Grapes carton packaging