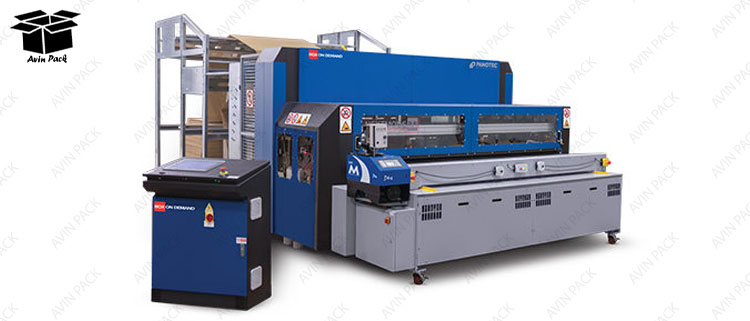 Production of cartons with BOD machine is one of the new tools that has been made today for the convenience of carton making. This machine is a complete package that turns large sheets into boxes without the need for manpower.
How the BOD device works
Production of cartons with BOD machine is the newest and most up-to-date technology used in carton industry in developed countries. This device is made in Japan and has been produced under the latest European standards.
How this machine work is that large carton sheets are cut by this machine and enter the boxing stage after cutting. The Bod device is digital tool that can be checked by a monitor, ie a person working with this device is that it allows you to store 240 razor lines and the desired box style so the touch screen and cut your sheets whenever you want.
The BOD machine also mechanized folding of your boxes, and there is no need a manual folding process. The boxes produced using the BOD machine are much more regular and tidy than other hand-held devices in term of size and appearance.
The production of the box in the BOD machine is done without the shortest possible time and no time is wasted in between, so that after selecting the dimensions and shape of the line and the blade of the box, the box production starts immediately and their manufacturing speed is very high.
Customers know that the large the box and the more luxury empty space in the box is due to the lack of export dimensions of the box, and in a large number gives a very significant amount of excess paper consumption.
So, if you, the manufacturers pay attention to the compatibility of your boxes with the environment and their cheaper prices, try to provide more fit boxes your products with the help of a BOD device.
As the BOD device continues to expand, different functions are being added. for example, beside the razor line and the process of making and folding them, the process of printing cardboard boxes is also being applied on it, so that by selecting the type of printing and design from the same from the monitor, it can print the desired design and color in the shortest possible time. print on desired box.
By reading this article, you will get information about BOD device. You know that in today's world and the new era in which we live, with the increasing development of the software world, devices are produced that, with their intelligent performance, make human affairs easier and faster.
Avin carton company
Avin pack carton manufacturing with advanced machines and tools for the production of boxes and packaging carton, for the convenience of your loved ones, in the shortest possible time, register your orders and get them ready for delivery.
https://en.avinpack.com/wp-content/uploads/2021/09/BOD-machine.jpg
321
750
admin
https://en.avinpack.com/wp-content/uploads/2021/10/Avinpack-logo-250x62-1.png
admin
2021-09-28 11:14:00
2021-09-28 11:33:35
Production of cartons with BOD machine