Gold smith cardboard boxes is one of the services after offset printing, which is added to the desired packaging box according to the wishes of customers or manufacturers, which makes it more attractive by luxurious packaging.
Gold smith
Gold smith cardboard boxes ,which is commonly used in cardboard boxes, is a very luxurious move that will give your packaging a double beauty. When you want to consider a beautiful and attractive package for your have been marketing a product for a long time and you want to make changes to it that will be uniform for the customer and lead to better sales, the best low-cost option to change the design and color harmony, use it is made of gold.
For example, you can gild the brand on the packaging of the product or the inscription on it. This change may seem small, but for a customer who knows your brand and has used it many times, i t looks like a new elements and evokes a sense of satisfaction in it.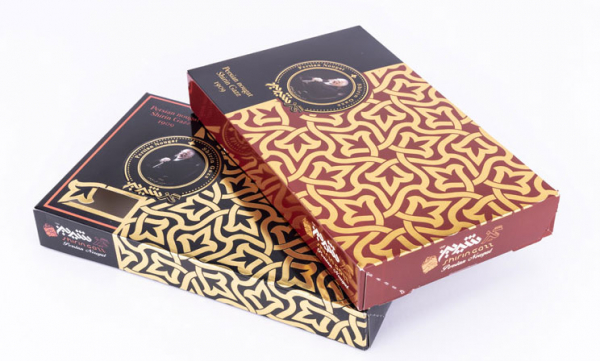 Read more: DRIED FRUIT PACKAGING
Gold and silver plating of parts of the packaging can subconsciously give it a sense of luxury and high cost. For example, suppose you produce coffee made from rare and expansive beans that not everyone has the ability or interest to buy. The use of gold and silver in this type of shows the specificity of that product.
Keep in mind that the application of such elements is also very common in export products. Dried fruit producers who want to offer first-class and quality products to the target market often pay for its packaging as well.
Read more: MODERN BOX MAKING
One of the post-printing features that can be applied to cardboard boxes and laminated cartons is the gilding of the packaging . The uniqueness of the box in question will encourage many people to buy your package, especially in export cases, a long with the quality, beauty and uniqueness of the pack of a product is also of great value.
How to gild
Gold printing is done by a machine that is applied both hot and cold. The thermal method, also known as hot printing. The selected design is implemented on the stencil and by applying pressure and heat, it is applied on desired packaging . It turns golden and does not stand out.
Read more: COLORS AND EFFECT ON PRODUCT PACKAGING BRANDING
From the name of this type of printing, it seems that it is only in gold color, but golden-printing is done in the form of silver globes and colored items, which are also called color-printing. You can apply your favorite color on your packaging according to your taste.
Gilding is applied on cardboard boxes directly on the box, but it has a different process in different typed of cardboard boxes. In carton packages, if you want to apply embossing and gilding or any other printing service, you must use offset printing because gilding is not possible on flexographic printing.
The laminating process is such that the desired design and color is printed on a sheet that us the form f a poster and this poster is pasted on the cardboard sheet by machines with a special glue. It is possible to highlight in cardboard boxes on the poster.
https://en.avinpack.com/wp-content/uploads/2021/09/Gold-smith-cardboard-boxes.jpg
321
750
admin
https://en.avinpack.com/wp-content/uploads/2021/10/Avinpack-logo-250x62-1.png
admin
2021-09-26 11:42:28
2021-09-26 12:47:58
Gold smith cardboard boxes