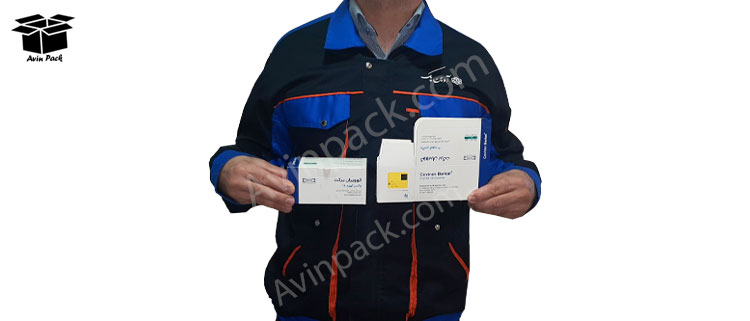 Barekat product box is one of the packaging used for covid-19 vaccines. These packages, which are produces according to world health standards by AvinPack Carton Company, are used for ShafaPharmed factory.
Barekat product box
Barekat product box is another work that Avin Carton has successfully produced. As you know, with the out break of the corona virus all over the world, all countries have tried to produce a vaccine for this disease in order to prevent its rising mortality rate. According to reliable global statistics, for infection patients such as chicken pox, influenza and the latest, covid-19, vaccination is the best and in some cases the only solution to eradicate the disease. In this regard, our country has also started working and trying to mass-produce the best type for mass injection by producing different types of vaccines and testing them.
Know more: PHARMACEUTICAL PACKAGING
Type and design of product box
Product that are used in specialized hospitals and clinics and deal with human lives in all stages from the production of the product to the end of their packaging must be approved in term of health and in export cases according to global health standards and production principles. The reason for such sensitivities is that these types of products deal directly with sick people, and if they become contaminated during production or during the packaging stage, they make patients much worse. Therefore, it is necessary to sterilize them in production and packaging.
The boxes produced by Avin Pack are for Shafa Pharmed factory under the name of Barekat brand. The corona vaccine is placed inside these boxes and distributed for injection to hospitals and clinics. The material of these boxes is made of 300 gr thickness cardboard, which gives good strenght and durability to the desired box. White cardboard, also known as health cardboard, is used for products such as tablets, capsules, vaccines, masks and other medical supplies and equipment.
Know more: TISSUE BOX
Carton Avin, due to the fact that the staple and the involvement of any typed if mental may damage the internal products during the oxidation of the staple or the metal used, has produced its boxes in the form of a lock bottom that requires. No kind of the connector is locked inside each other at the end and take the shape of box. Another feature of the covid-19 vaccine box produced by Carton Avin is the lock bottom model, which we want to explain about this issue and the model.
What is lock bottom box?
This package is actually a kind of semi-finished bottom box that turns into a box with a small pressure from the side. The advantage of such boxes is that they do nor require glue or staples for their formability and can hold medicines such as tablets, capsule, etc. You may have been several boxes of pills and capsules by now which you will be confused when opening them, which means that these boxes are produced in such a way that the door and the bottom are not separate from each other this problem has been completely solved with the production of lock bottom boxes.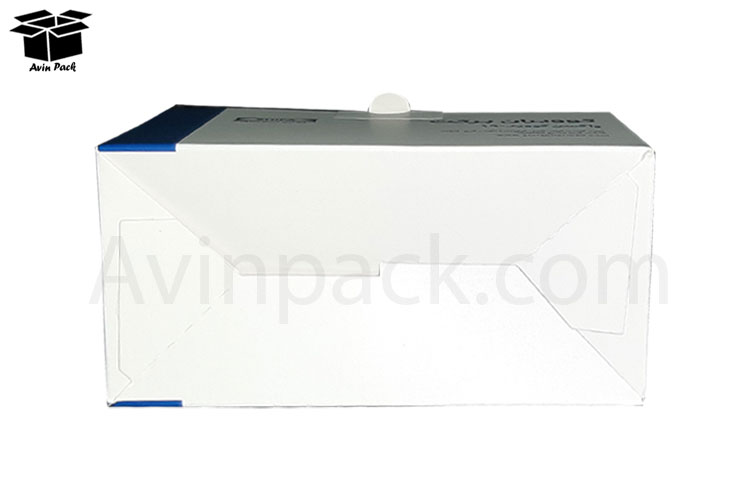 Covid-19
The corona virus, known as Covid-19, is a family of con contagious viruses. The disease became widespread in the world in late 1998, killing many people. Symptoms are usually fever and chills, headache, loss of smell and taste, nausea, and in the more severe cases, hard shortness of breath.
In the early stages of this unknown and newfound disease, even doctors has difficulty diagnosing it because it has very similar symptoms to the flue. No definitive cure has been discovered, but vaccine being developed and tested by countries can have positive effects.
The fastest way to transmit the virus is to be in contact with people infected with the virus, which is why the media try to promote a culture of social distance between people. Avoiding ceremonies such as weddings and mourning, unnecessary parties, long lines and crowded markets, gathering in medical centers will reduce the spread of the virus among people and cut the transmission chain. In addition to all above, the most important preventive factor is wearing a mask. The mask protects the nose and mouth, which is the only way the virus enters you airway, through its layers.
Barekat Pharmaceutical Group
Shafa Pharmed Group Company, which is a subset of Barekat pharmaceutical group, has started its activities with self-sufficiency in some cases such as antibiotics, growth factor and corona vaccine, using the latest knowledge in the word and with the help of the most experienced specialists. The company has been famous since 1978 for producing famous antibiotics such as ( azithromycin, erythromycin and clairthromycin) and in 1989 for producing penicillin throughout Iran.
Avin Pack carton manufacturing has started a special activity by producing human lives. In addition to the unique drug design, these boxes have a very good quality in term of health.
Way to communication: Contact Us
https://en.avinpack.com/wp-content/uploads/2021/07/brekat-product-box.jpg
321
750
admin
https://en.avinpack.com/wp-content/uploads/2021/10/Avinpack-logo-250x62-1.png
admin
2021-07-17 09:16:37
2021-09-04 13:28:03
Barekat product box