Export Lettuce and Cabbage packaging: Lettuce and cabbage export cartons of different designs and colors are used, which gives your product a double beauty. Lettuce is mostly used in salads and some sandwiches. Lettuce is a good source of vitamins A, K and potassium and is high in fiber and is useful for relieving constipation, bile, headache, cough and etc.
Lettuce packaging
Here we will give a brief explanation about the packaging and export of two types of lettuce Romano (officials) and iceberg:
The maximum weight of lettuce packaging for export is 8 to 12 kg, and sending lettuce with more packaging cause a lot of pressure and crushed and damaging on lettuce. 8 to 10 pieces are arranged in each package the maximum weight of its packaging carton is 8kg.
Romano lettuce is arranged in two rows and the maximum weight of its packaging carton in 10 kg. This type of arrangement is the best and most economical type of arrangement.
It should be noted that lettuce and cabbage for export must be stored in the refrigerator after harvest and packaging, where lettuce and sent in fridge trailers, and a noteworthy point in lettuce exports is that the packaging should not be in bulk because it causes lettuce to be compacted and crumbly, and also to be durable for export any kind of goods should not be only criterion for the delivery of goods in the destination country, but we should assure the customer that the goods sent have a high durability and damage will not be observed prematurely.
To know more: packaging carton price
Best time for export lettuce and cabbage
Most of the exports of vegetables such as lettuce and cabbage are in the second half of the year, especially summer, and the countries which we have most export to them are: Iraq, UAE, Qatar, Russia, Georgia and Azerbaijan. It is worth mentioning that Dezful city is one of the most significant cities for the production and export of lettuce due to its four season weather conditions and optimal agricultural situations.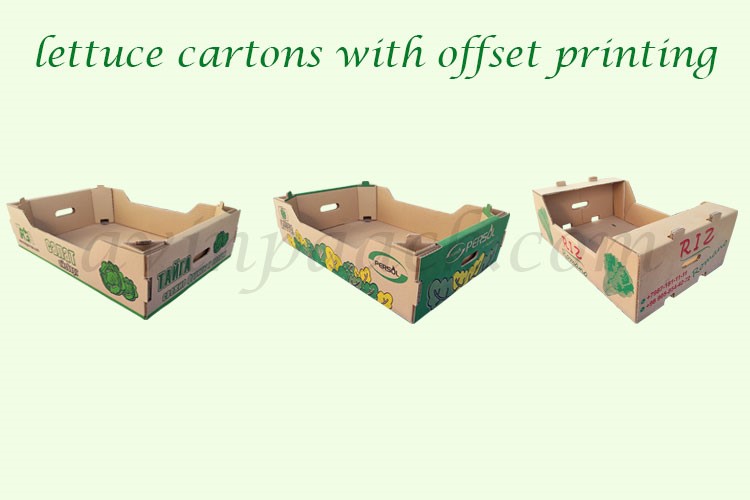 Lettuce export packaging
Export cartons are mostly in the form of 5 layers of laminate with offset printing and die-cutting, which makes the carton both high strength and beautiful, and can also be printed by the company logo or brand on the carton, which is considered an advertisement somehow in marketing. The composition of packaging carton sheet, for export must have good resistance to water. In addition to the strength of the sheet the shape of the cartons with a new and creative design will greatly help in better sales and product marketing.
Export benefit
In general, it can be said that exports increase more job opportunities and better economic prosperity for the country. And also increase liquidity and currency is one of the important benefits of exports, and the best choice for exporting lettuce and cabbages fabulous carton boxes not only in appearance but also in the materials.
About AvinPack carton making
AvinPack making carton packing Manufacturing Factories Group, with more than 10 years of experience in making cartons, boxing, printing and proper packaging of products with the highest quality and reasonable prices in the market, proudly guides you to make the right choice for communication with the experts of this industrial unit can be done through the contact us section.
The managers of Avin Pack cartooning complex, with the aim of satisfying their customers, have been able to be at the top of the best making cartons in Tehran in terms of customers, and in this regard, they are part of the best producing cartons group in Karaj and owe this position to their customers.
https://en.avinpack.com/wp-content/uploads/2021/06/carton-Lettuce.jpg
321
750
admin
https://en.avinpack.com/wp-content/uploads/2021/10/Avinpack-logo-250x62-1.png
admin
2021-06-14 14:51:52
2021-09-04 14:45:56
Export Lettuce and Cabbage packaging